[ad_1]

Design & Build Quality
7.5
Vaporesso is a subsidiary of Smoore, the manufacturers behind the much vaunted and now industry standard CCELL vape cartridge design. They create a variety of vape kits in many forms, intended for use with both nicotine salts and e-juices, including THC oil products.
In this review we'll be looking at the Vaporesso Click and seeing how it measures up. It's a refillable vape kit with a metal body and cover that makes it resemble a refillable lighter at a glance.
Pros:
Large reservoir, making it well suited to travel
Thick, consistent hits
Solid metal construction, also well suited to travel
Stylish looking

Cap keeps mouthpiece clean
Satisfying haptic feedback when opening and closing, akin to a heavy personalized lighter
Cons:
Large reservoir, meaning it is expensive to fill
Hits drain the reservoir very quickly on high settings
Refilling is awkward and a bit laborious
Recommendations: The power/mode selector button is the only thing that protrudes and I could see this potentially being an issue in some cases. An unfortunately placed strike to the side of the vaporizer could easily smash in the button and render it non-functional. This could easily be fixed by recessing the button slightly so that it doesn't protrude.
The refilling process would also be greatly improved with a heavy syringe rather than the squeeze bottle provided. The bottle has a hard time with the viscous oil and only works even somewhat well after heating it to improve the flow.
A small stand to hold the Click in place while refilling would also be appreciated, as a considerable amount of pressure is needed to depress the valve lock on the refill port. This forced me to awkwardly pin the Vaporesso between two objects in order to fill it more easily. As a result I had the pod fly out from under the bottle due to downward pressure more than once. Holding it in place, pressing down the valve lock and squeezing the bottle all at once is intensely awkward. This could easily be done with a simple plastic stand with some grabby rubber feet to capture the base of the vape kit and hold it while you fill.
Lastly, the design of the oil pods themselves could be improved. Either by lowering the inlets or putting in a barrier above the lowered section. The current design traps roughly a dozen hits worth of oil down in a corner it refuses to come out of. To make matters worse the reusable canisters do not open without destroying them.
Vaporesso delivers style and performance in a single package
The first thing one notices of the Vaporesso Click is its overall sleek styling, from its packaging to the vape kit itself. The design is on point from top to bottom. It looks sleek and eye catching but not outwardly blatant that it is a vape rig. With its smooth lines and predominantly metal construction it gives the feeling of a custom refillable lighter both at first glance and first feel. Right down to the satisfying click when opening and closing its cap. While it does have some nitpicky issues, which we will go over, it comes across as a very professional piece of kit.
Thick clouds soothe the mind on the Vaporesso Click, but cramped hands don't
One of the nitpicky issues with the Click is that its design necessitates an awkward refilling procedure. It calls for either awkwardly pinning it against something or having more than two hands, something not made easier even with help because it's the size of a lighter.
To make the refilling process even more awkward, the squeeze bottle provided does not handle viscous e-liquids well at all. It requires prolonged sessions of pinning the rig in place and then squeezing with all your might.
While doing that you must also simultaneously depress the valve lock to get it to ever so slowly dribble out and fill the reservoir. Because each pod holds 2 grams this means quite a lot of squeezing. This caused me some serious hand cramping. Once filled it will last for weeks. This repays some of the difficulty in filling it.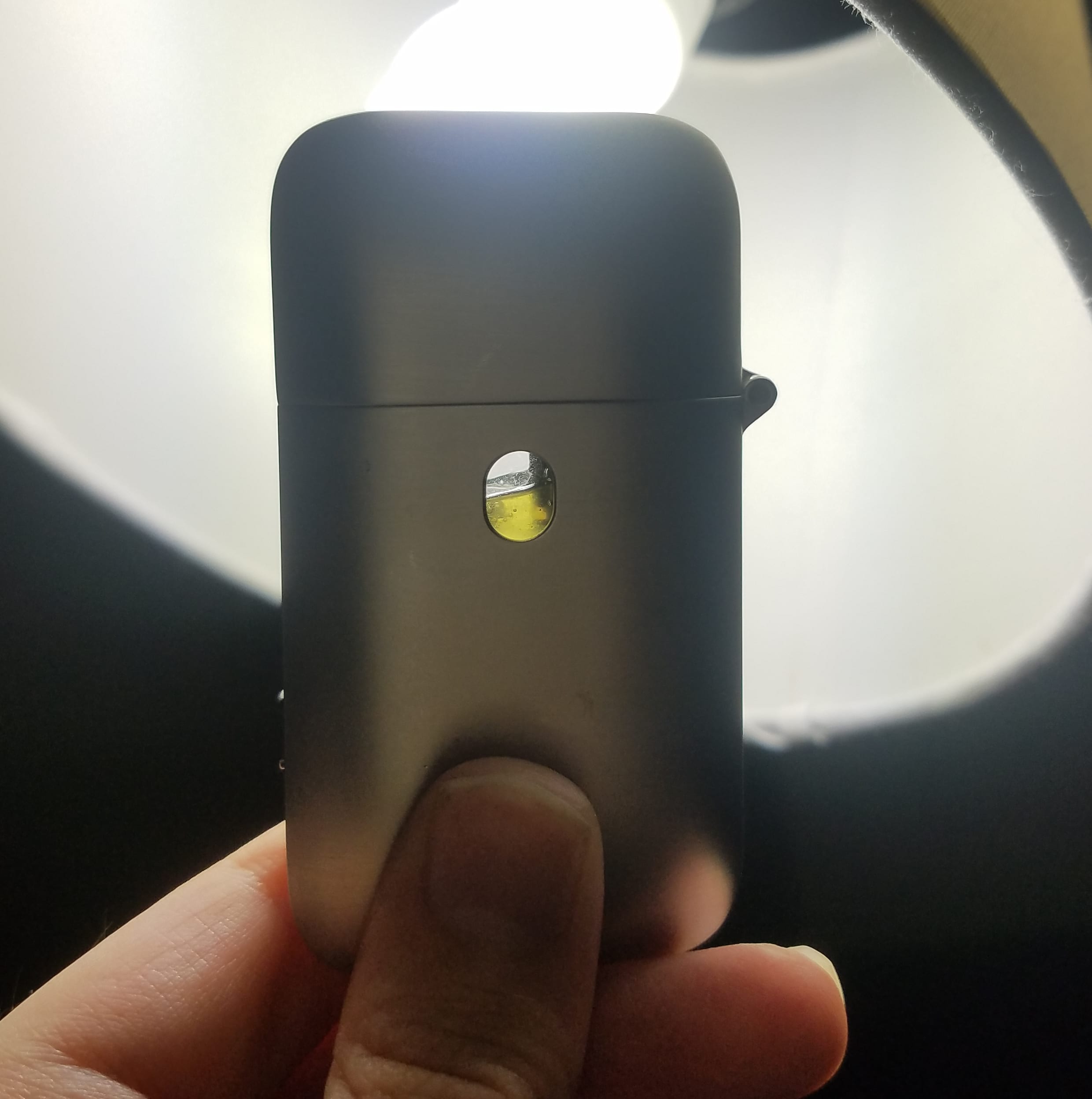 Vaporesso Click holds a double edged sword hidden in the thick fog of vapor
The Click does an exemplary job of providing incredibly consistent, thick and lung-wracking hits. It manages to outdo even the CCELL cartridges by a mile on hit strength.  Almost unheard of in refillables. However these impressively thick hits come at a cost. They will ravenously devour your oil or distillate at an honestly alarming rate. The volume the canisters contain makes it not at all cheap to refill. Seeing the level drop so quickly does make one worry for their pocketbook. This is easily countered by being conservative about use, but it is something worth warning about.
Delicious delivery of dankness to the last drop
The consistent heating method employed by the Vaporesso Click seems to never overheat the oil. This means that it never seems to take on any foul burnt flavors. This is especially important with the large reservoir size. If the element were to burn the oil then this would waste huge volumes. It does already waste a small amount due to the overall physical design, but they at least manage to avoid the Click burning any.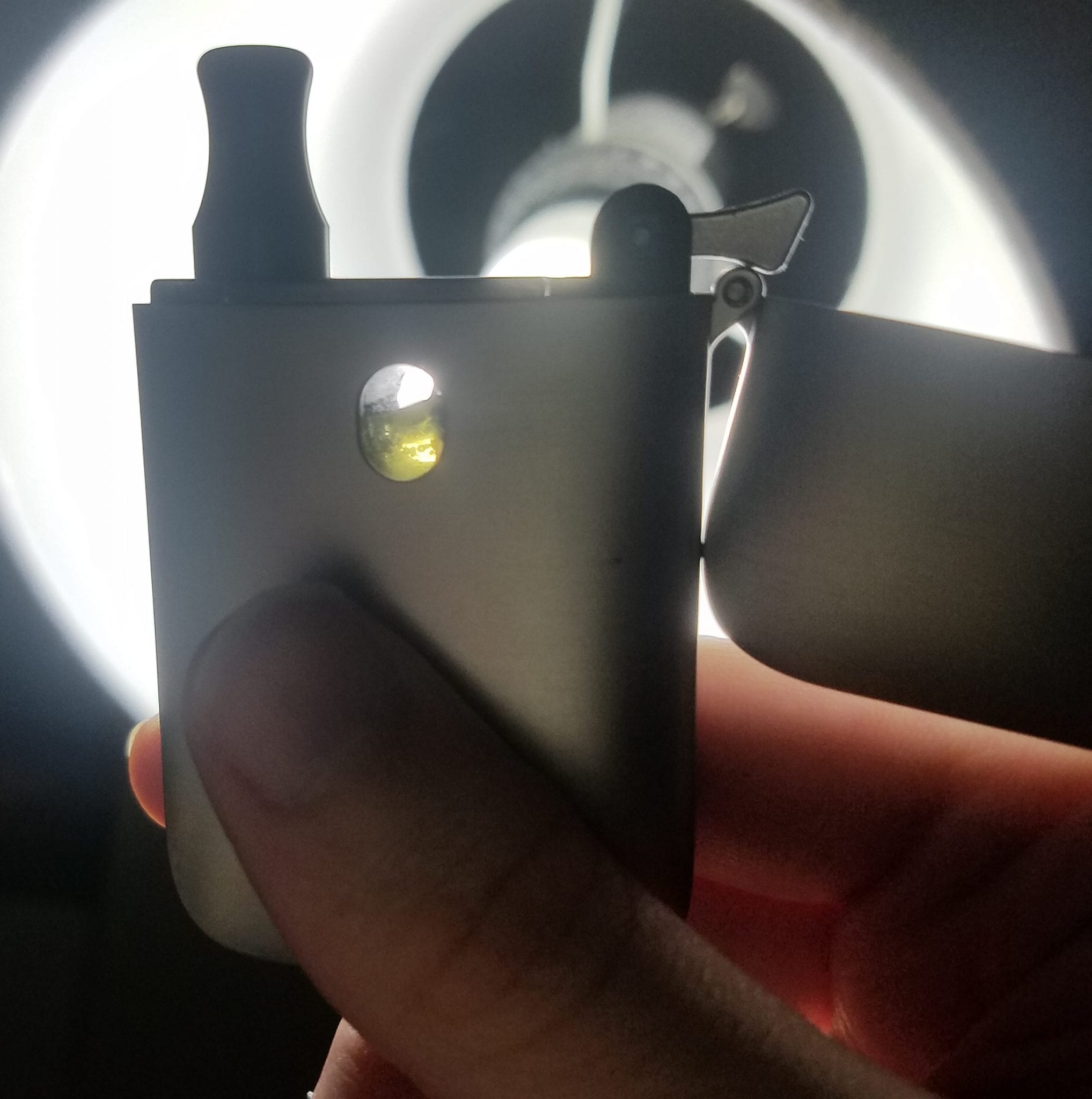 Quick charge times make for a good grab and go
Lastly, the battery in the Vaporesso Click is a particularly good one. Boasting both a quick charge time and a long lasting charge. For me it made its way through about half of the sizable refillable pod before it needed recharging. This makes it perfect to last all weekend long for a camping trip, for example. It can easily last several days without needing to worry much if at all about running out of charge. Even with heavy use.
It will also charge with any micro-USB charging cable. So if you have an Android charger or other micro-USB charged device then you can easily swap it out onto the same cable. It reliably picks up a full charge from zero in about an hour.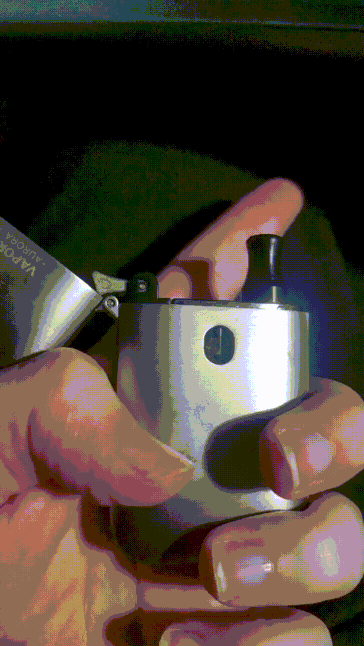 Concluding our Vaporesso Click review…
The Vaporesso Click is one of the best refillable vape rigs I've come across so far. It has some issues, but nothing totally deal breaking. It is a bit of a pain to fill up, undeniably. But it's not impossibly difficult and it repays the effort with incomparably heavy hits. If Smoore fixes the problems this design has then it would be a dead simple total recommendation. Even as it stands now, however, I would say it is a fantastic fit for any who travel and like to have a head change handy.
If you would like to read more about Vaporesso, you can do so here. If you would like to read more about Smoore, you can do so here. Want to purchase a Vaporesso Click for yourself and try it out in the flesh? You can do so here.
Click
Average rating:
0 reviews
[ad_2]