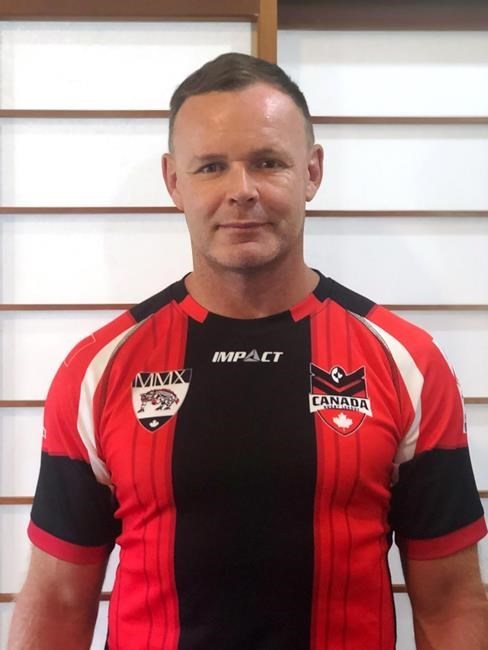 Born in Canada and raised in Australia, Aaron Zimmerle is back for a second stint as coach of the Canadian men's rugby league team.
There is unfinished business.
He was first appointed Canada coach in 2015 ahead of the Rugby League World Cup qualifiers. It was a crash course with the team known as the Wolverines tying Jamaica 18-18 before losing 34-24 to an American squad led by current Toronto Wolfpack coach Brian McDermott.
Zimmerle, who stepped down in 2016, has not forgotten the 2015 qualifying. He notes Canada led the U.S. 18-14 at halftime.
"And then they ran over top of us in the second half. Had we won that game, we would have gone to the World Cup," he said.
Zimmerle, his wife and sons, aged nine and 12, are currently in Japan on a gap year that saw them also spend nearly nine months in Canada. He met his wife in Japan, where he played rugby union and taught English from 2000 to 2003.
The family is due back in Australia in January.
Zimmerle, appointed Canada's coach last month for the second time, believes he has a far better handle now on the talent at his disposal.
"This time round, having worked with those players before, having lived in Canada, coached and played on the domestic rugby union season just gone with Bayside (in Surrey, B.C.) — knowing all the coaches now on a personal basis now … I just feel a lot more connected to Canadian rugby league," Zimmerle said. "And therefore more prepared than in 2015."
Times have changed since then. The Wolfpack and Ottawa Aces have raised the profile of the sport, which is also far more accessible on TV.
The 43-year-old Zimmerle has started work already, reviewing domestic players and looking for heritage players who have the requisite family ties to qualify for Canada.
What lies ahead in the immediate future is unknown, given the pandemic. Qualifying for the 2025 Rugby League World Cup is expected in 2022.
He is using the time to work with Canadian women's coach Mike Castle, an Australian who will lead the Canada Ravens at the 2021 World Cup, on building resources to help domestic coaches and players.
"We have a two-year plan in which to do that," Zimmerle said. "If we're not able to play at that moment, then all my time will go into developing ways to do that."
Much will be done from distance, with technology helping connect Zimmerle although he is committed to being in Canada for key times.
The Canadian women, who are ranked fifth in the world, debuted at the 2017 World Cup where the fledgling Ravens scored a historic first win — over Papua New Guinea — en route to the semifinals of the six-team competition. The women's field will feature Canada and seven other teams at the 2021 World Cup.
The Canadian men are currently ranked 27th in the world — sandwiched between Spain and Nigeria. That low ranking is partially due to inactivity, however.
Jamaica will represent the Americas at the 2021 World Cup. The Reggae Warriors advanced by beating Canada 38-8 and the U.S. 18-10 in the 2018 qualifying tournament. The Wolverines, coached by Australian Ben Fleming, finished third after thumping Chile 62-12.
Zimmerle was born in Surrey, B.C., to a Canadian mother and Australian father. He was nine when the family moved to Australia, where he found rugby league at the age of 14 in high school on the Gold Coast.
He went on to play at the semi-pro level, spending time in the reserve grade with the Penrith Panthers organization and then in the regional competitions.
"I always term it that Canada is my heritage but Australia is my culture," said Zimmerle. "And that being rugby league."
The Canada coaching job is a volunteer position. Zimmerle has spent the last 17 years teaching and coaching at Palm Beach Currumbin State High School on the Gold Coast. Known for its Sports Excellence program, the school has won three national championships and produced 45 NRL players, including Darius Boyd, Ben Hannant and Kevin Proctor.
In addition to domestic talent, Zimmerle will likely field heritage players like brothers Rhys and Ryley Jacks. They are Australian-born and -bred but qualify to represent Canada because their grandfather was born in Toronto.
Rhys was an original member of the Wolfpack. Younger brother Ryley is now with the NRL's Melbourne Storm.
Jordan Drew, who spent time with the NRL Brisbane Broncos, also qualifies for Canada.
There is talent out there.
English-born Louis Robinson qualified to wear the Maple Leaf because his grandfather was originally from Ottawa. The six-foot-one 230-pounder came to the attention of Canadian rugby league officials in 2011 when, surfing the Internet during a break from studying for exams at university, he sent them an email.
Zimmerle, who laments never having the chance to play for Canada, says such heritage players mesh well with local talent.
"When they are in with the Canadian players, they really find their inner Maple Leaf, I guess," he said. "And I think on the flip side, those heritage players who have been indigenous to the game of rugby league, if they're in your key positional areas like a halfback and a hooker, what they do is bring that real touch of class that allows the Canadian players then to elevate their own level."
Rugby league is the 13-player version of the code, as opposed to 15-player rugby union. Whatever happens in World Cup qualification, Zimmerle is committed to growing rugby league in Canada.
"The one thing I want to do is I want to leave it in a better position than when I began."
This report by The Canadian Press was first published Sept. 14, 2020.
—
Follow @NeilMDavidson on Twitter
Neil Davidson, The Canadian Press