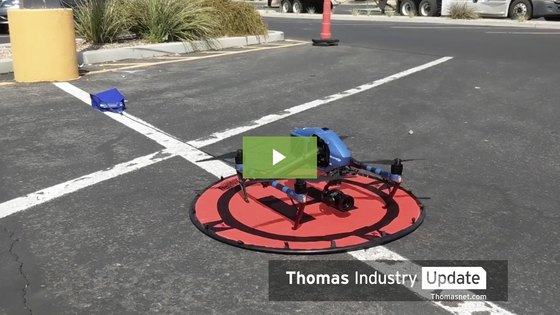 Welcome to Thomas Insights — every day, we publish the latest news and analysis to keep our readers up to date on what's happening in industry. Sign up here to get the day's top stories delivered straight to your inbox.
In early September, Walmart launched a pilot in Fayetteville, North Carolina, to deliver groceries and household essentials with automated drones. The company partnered with drone delivery firm Flytrex to use quadcopters to make the drops.
The following week, Walmart partnered with Zipline to use the company's fixed-wing drones to deliver select health and wellness products to customers within 50 miles of the company's headquarters in northwest Arkansas.
Zipline's proprietary technology uses a launch and release system that makes on-demand delivery possible in 60 minutes or less. The operation will begin in early 2021 with plans to expand to other locations and general merchandise, if successful.
According to Zipline, it operates the world's largest drone delivery network. The company first gained notoriety in 2016 when it launched blood and medicine drops in Rwanda.
Finally, on September 22, 2020, Walmart once again embraced drone delivery technology, but this time to deliver at-home COVID-19 self-collection kits. Walmart partnered with DroneUp and Quest Diagnostics to launch a pair of trials serving the North Las Vegas and Cheektowaga, New York, communities.
To qualify, patients must live in a single-family residence within a one-mile radius of the designated Supercenters. DroneUp's quadcopters can drop off the kits in the patient's driveway, front sidewalk, or backyard, depending on the property's layout. Once the kits are delivered, the person performs a nasal swab and sends the sample back to Quest Diagnostics for testing using a prepaid shipping label.
According to the company, there is no delivery or kit cost for customers. While trials will begin immediately in Vegas, plans to launch in the Buffalo suburb start in early October.
Walmart hopes to use the drone trials to gain valuable insight into the customer and associate experiences, from picking and packing to takeoff and delivery.
Steel, Metals Sourcing Trends Upwards Amidst Tariff Talks
Next Story »
More from Business & Industry