The season of Christmas is a joyful season that entails the showing of appreciation and love to friends, family, and loved ones via gifts, care, and so on. The most common method of showing appreciation during Christmas often involves gathering together to make memories, exchange gifts, and so on.
This holiday season, what better way to show love to your cannabis friends, and loved ones than by giving them special 420-friendly gifts. You can show your friends and family members that are cannabis lovers how much you love them by giving them the perfect cannabis-centered gift this Christmas.
This article will help to guide you through some of the Unique canna-friendly gifts that you can give to your friends and loved ones this holiday season. It should be noted that these are not the only gifts that are available but they give a good idea of what to look out for when shopping for canna-inspired gifts.
Below is a list of unique gifts you can give your cannabis-loving friends, family, and loved ones this Christmas season.
Glass Cleaner kits
A glass cleaner kit is an example of an ideal holiday season gift for a cannabis lover. It is useful for a myriad of things especially when it comes to a cannabis flower or dab smoker. It helps to make necessary tools and glass accessories such as pipes and vapes clean. This helps to ensure that the next smoke is cleaner better and fresher. It also helps the cannabis lover to get rid of unwanted waste that clogs up the pipes which may be detrimental to health. Such buildup of flowers or concentrates might not be easily cleaned normally but with a glass cleaner kit, cleaning becomes easier.
A glass cleaner kit is an ideal gift if you have a cannabis lover that enjoys smoking with pipes and bongs. An example of a quality glass cleaner kit is the Hemper Tech cleaning set. It consists of all the necessary glass cleaning equipment that you may need.
Smokers Essential kit
A good number of cannabis users enjoying the smoking experience as opposed to other means such as edibles of topicals. Recreational users particularly enjoy the thrill of sharing a blunt. This is why a gift of smoker's essential kit might just be the best gift you can give a cannabis lover this festive season. An essential kit contains all that a smoker needs to make the smoking experience fulfilling. It contains rolling papers, grinders, lighters, mints, and different types of quality tools needed to make the smoking experience worthwhile. It should be noted that other types of necessary items that are needed for the smoking experience and afterward are also in these essential kits.
There are different types of essential kits for smokers from different manufacturers with different range of prices available. With a little research, you can easily find the right kit that meets your cannabis lover's particular need.
Gummies and edibles
The first two types of gifts were predominantly for cannabis lovers who prefer to smoke. However, there are different types of cannabis lovers available nowadays. While some prefer the conventional way of smoking, some lean more towards the use of cannabis-infused edibles. This is why special cannabis gummies and infused-edibles are examples of quality gifts that you can give to your cannabis lovers. There are different types of cannabis-infused gumdrops and candies that can easily be shared among loved ones. This makes a wonderful gift to give to friends and family that are cannabis lovers.
For friends that love to get busy with cannabis in the kitchen, you can get them cannabis recipe cookbooks that can make their cooking experience more enjoyable. With this, they can expand their cannabis cooking experience by trying out different recipes and so on.
CBD oil, lotions, and topical creams
A good number of beneficiaries of medical marijuana, particularly those using it for local application make use of topical creams. Different types of products such as CBD oils, lotions, salves, and lip balms are available to offer remedies to different types of local issues. Examples include pain, skin diseases, and inflammation. This is why CBD topicals are examples of quality gifts that you can give to those benefiting from medical marijuana this holiday season. They can easily be incorporated with different types of 420-friendly gifts to show your cannabis lovers that you care about their health.
There are varieties of topical products that can be used. Examples are tinctures, lip balms, transdermal patches, oils, and lotions.
Vapes and pipes
The smoking experience has moved on from the use of rolling papers and cannabis buds. There are now special instruments that can make your smoking experience easier and better. Pipes and vapes are not new to most cannabis lovers which is why they are common gifts that are readily given to cannabis lovers as gifts. Vapes, pipes, and bongs are some of the useful instruments that will be greatly appreciated when given to cannabis lovers. You can also choose to give your experienced cannabis lovers concentrate extractors which helps to get them handier with their natural herb.
Vape cartridges and different storage cases are also valuable gifts that will be greatly appreciated by cannabis lovers you know already have enough pipes and vapes.
Bottom line
The best way to end the year is with gratitude and a show of love. 2020 has been such a tough and challenging year for all of us, what better way to end such a difficult year than in the company of friends and family. Cannabis inspired gifts aren't just unique, and useful, they're gifts that cannabis lovers will appreciate very much.
There are tons of cannabis-centered gifts you can get your loved ones this Christmas season, you know your loved ones, you know what they like, go out and get gifts to show your love and appreciation of them!
Will you get one of the gifts mentioned above, or do you have something else in mind, let us know in the comment section below.
CANNABIS CHRISTMAS, READ MORE…
HOW TO GIVE CANNABIS AS A CHRISTMAS GIFT, HERE ARE THE RULES!
OR..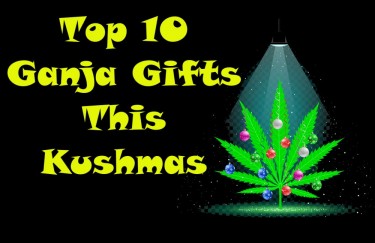 BEST KUSHMAS GIFTS THIS YEAR FOR THE CANNABIS FAN, CLICK HERE!