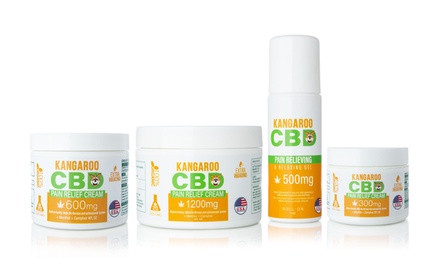 Potential Benefits
May assist in improving general wellness
Can help balance energy
Features a moisturizing effect for supple and healthy skin
Formulated with panthenol to help with eczema, psoriasis, skin infections, rashes, and burns
How to Use
Adults and children over 12 years of age: apply a thin layer to the affected area and rub gently not more than 3 to 4 minutes a day.
Specifics
This statement has not been evaluated by the Food and Drug Administration (FDA). This product is not intended to diagnose, treat, cure or prevent any disease.
Hemp stalk derived. This product contains less than 0.3% THC.
Must be 18+ to order/redeem.
---
CBD Pain Relief Cream from Kangaroo CBD (300mg-1200mg) 300MG
Lab Analysis: List
Lab Analysis Included: Yes
Hemp-Stalk Derived Product: Yes
Nutrition Facts & Ingredient Label: Label
Serving Instructions: Adults and children over 12 years of age: apply a thin layer to affected area and rub gently not more than 3 to 4 minutes a day.
Serving Size in Milligrams: N/A
Dimensions: 3.0 inches (H) x 4.0 inches (W) x 2.0 inches (L)
Weight: 0.4 pounds
CBD Pain Relief Cream from Kangaroo CBD (300mg-1200mg) 600MG
Lab Analysis: List
Lab Analysis Included: Yes
Hemp-Stalk Derived Product: Yes
Nutrition Facts & Ingredient Label: Label
Serving Instructions: Adults and children over 12 years of age: apply a thin layer to affected area and rub gently not more than 3 to 4 minutes a day.
Serving Size in Milligrams: N/A
Dimensions: 3.0 inches (H) x 4.0 inches (W) x 2.0 inches (L)
Weight: 0.4 pounds
CBD Pain Relief Cream from Kangaroo CBD (300mg-1200mg) 1200MG
Lab Analysis: Label
Lab Analysis Included: Yes
Hemp-Stalk Derived Product: Yes
Nutrition Facts & Ingredient Label: Label
Serving Instructions: Adults and children over 12 years of age: apply a thin layer to affected area and rub gently not more than 3 to 4 minutes a day.
Serving Size in Milligrams: N/A
Dimensions: 2.6 inches (H) x 3.5 inches (W) x 3.5 inches (L)
Weight: 0.6 pounds
CBD Pain Relief Cream from Kangaroo CBD (300mg-1200mg) 500MG Roll-on
Lab Analysis: Label
Lab Analysis Included: Yes
Hemp-Stalk Derived Product: Yes
Nutrition Facts & Ingredient Label: Label
Serving Instructions: N/A
Serving Size in Milligrams: N/A
Dimensions: 5.1 inches (H) x 1.5 inches (W) x 1.5 inches (L)
Weight: 0.2 pounds