Black Bean Brownies With Cannabutter
Just the other day, I wanted something decadent BUT healthy and I can't wait to share my recipe for Black Bean Brownies With Cannabutter with you!
It might sound less-than-appetizing or maybe you're already drooling but this twist on a classic made with cannabutter satisfied my cravings and didn't leave me bloated afterward.
It's true, when you hit 40 things just start to change. Maybe you can relate?
For example; I have discovered I can now gain weight in areas I never knew one could gain weight in! How fun. Not really. LOL
So that is why, I am experimenting in my canna-kitchen, with delicious weed infusions that are also healthy for you!
Or should I say: " Healthy-ish"?!
How Do I Bake With Weed?
At first, when I started out I thought I was doing it right.
I would grind down my weed and then just sort of sprinkle it in and around the batter. Oops… that's wrong!
I corrected course, and learned that the best way to bake or cook with weed is by decarbing first.
What Is Decarboxylation?
This post is bringing out the Science-fanatic in me.
I'll try to explain this easily for those who are just beginning, and a refresher for those professional cannabis Chef's out there reading.
There are a ton of great ways to consume cannabis.
If you opt to smoke or vape your weed, you won't have to worry about decarboxylation.
The process occurs by default as soon as the weed is exposed to heat. (oh, how cool!)
Unfortunately for edibles, you can't simply sprinkle your raw weed directly onto your foods as if it were salt or pepper. (Oh man.. that's what I was doing!)
Cannabis in its raw state isn't psychoactive, meaning: you won't feel the effects.
You need HEAT baby!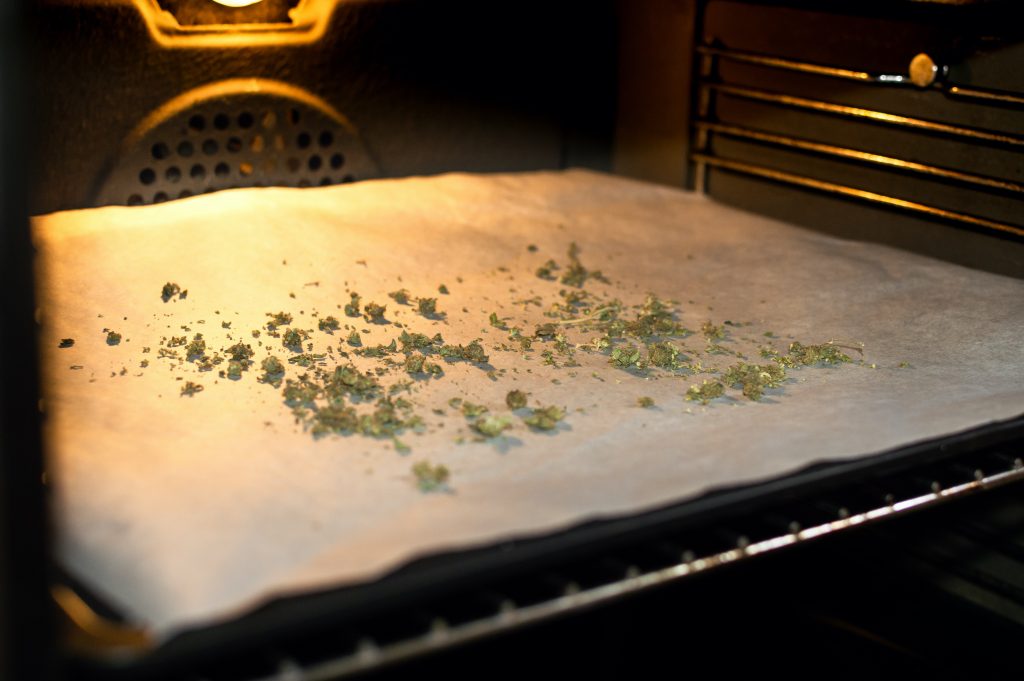 It is the process of decarboxylation that converts and activates cannabinoids (those super cool cannabis chemicals) to create your high.
Decarboxylation is the conversion of THCa into THC OR CBDa into CBD.
Without decarbing your weed, THCa and CBDa will not interact with the endocannabinoid receptor areas in your body. (and we all have them!) so you won't enjoy or receive the full benefits.
Here's How To Decarb Weed:
Recipe: Black Bean Brownies with Cannabutter
This little gem of a recipe will give you a few things:
After you've decarbed your weed, you'll definitely get the high you are after – so make sure you pick the strain that suits your needs.
Yes, you can substitute CBD oil here instead of decarbed weed. I would suggest mixing up the entire batter, and then at the end use 1ml TOTAL of CBD oil and mix it in well. Dose LOW and SLOW to start. You can always 'up it' with the next batch.
An interesting chocolate-taste (you won't even taste the black beans) with a healthy twist that your gut will be thankful for!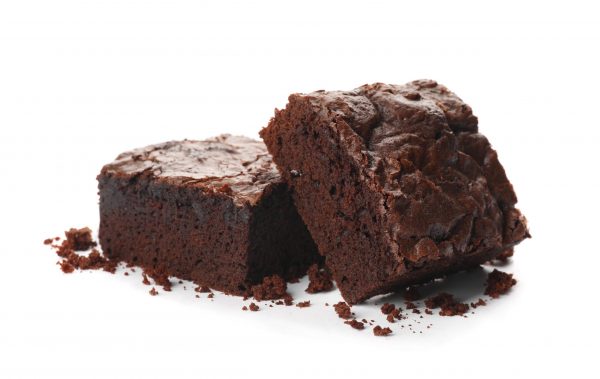 Servings: 6 people
Author: Steph Van De Ven
Cost: 20+
1 1/2

cans

black beans

rinsed very well and strained/drained of any liquids

2

tbsp

cocoa powder

12

cup

quick oats

organic if you can

1/4

tsp

salt

1/3

cup

honey

raw, pure.

1

pinch

stevia

1/4

cup

coconut oil

2

tsp

pure vanilla extract

1/2

tsp

baking powder

3

tbsp

cannabutter

1/2

cup

dark chocolate chips or chunks
Pre-heat the oven to 350. If you're like me and you store things in your oven, make sure you take them out!

Combine all of the ingredients into your mixer except for the chocolate chips/chunks.

Blend very well so it's a nice, not-too-thin brownie batter consistency.

Gently fold in your chocolate chips or chunks. Save a few to sprinkle on top after.

Line your brownie pan with parchment paper and pour in the batter.

Bake for 15-18 minutes – checking to make sure they don't burn, and using a toothpick or a skewer stick or even a fork, to poke the middle of the batter. If it sticks keep baking. If it doesn't you should be good to go.

Let cool for 10 minutes.

If you serve these to friends, make sure you let them know they are pot-brownies – but don't tell them about the beans! See if they can guess afterward.

Enjoy!
If you're looking to up-level your canna-cooking game, you may want to start here.
For more recipes like this one, check out our recipe index here.
Share our post and comment below! Could you or your guests tell that these brownies had black beans inside?
We'd love to hear from you.
As always, happy canna-cooking!