When the cannabis sector began to heat up, a series of well-known figures were marched out as a marketing ornament to attract investors. Ziv Aviram was there before that, and he took it upon himself to start a company from scratch, risking his own money in the venture. In 2019, Aviram founded pharma company MediCane Health, which develops cannabis-based medicine, and where he serves as Chairman, alongside co-founder and CEO Yossi Ben Amram, and co-founder and CSO Hagai Greenspoon. Aviram decided to found his own company after he was exposed to the sector from his own experience with medical cannabis-treated patients.
When he realized that research into the area of cannabis-based drugs was still in its early stages, he decided to lead the way. MediCane became a pharmaceutical company par excellence last week, after inaugurating its new lab in Kfar Saba in central Israel. It's a significant stepping stone for Aviram, the company's primary investor, whose vision of cannabis is finally starting to take root: the company is expecting to release its first cannabis-based drug, which is designed to treat symptoms in dementia patients.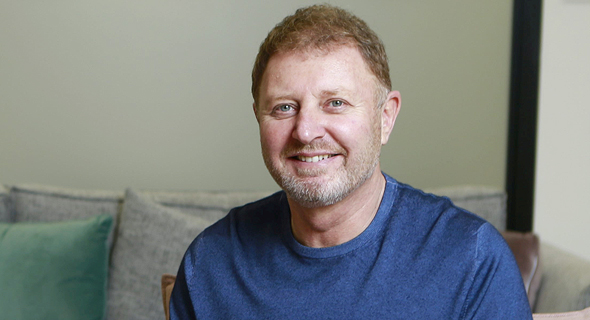 Active Chairman of MediCane Ziv Aviram. Photo: Amit Shaal
Aviram also serves as a co-founder and CEO of OrCam, which focuses on developing products that are designed for the visually and hearing impaired, and sees MediCane as yet another company "whose job is to help humanity," which is true also for the autonomous vehicle company Mobileye, which he founded along with Prof. Amnon Shashua. Recently, Calcalist revealed that OrCam which was founded in 2017 – during the same year that Mobileye was sold to Intel for a valuation of $14.5 billion – has plans to raise an additional $200 million at a valuation of around $2 billion. Venture capital sources estimate that after that investment round, the company will head for an initial public offering on Wall Street at a $3 billion valuation.
In an exclusive interview with Calcalist, Aviram provides a glimpse into the progress of his cannabis pharma company, which he plans to take public on Wall Street at "the right time;" discusses the benefits and drawbacks of going public; emphasizes that he didn't simply found this company to make another exit; and refuses to address the money that he pocketed from the Mobileye deal – some $1.4 billion for his 10% shareholder stake and the options that he held at the time of the deal, according to previous reports.
The success you experienced with Mobileye allowed you to make your current investments. So, why not head toward another exit?
"The exit exposed me to topics that interested me, but I didn't have time to deal with, and who's advancement will affect our quality of life. That's what I care about and that's what MediCane is focused on and what really excites me. MediCane was founded to be a gamechanger by developing medical balms that are based on cannabis plant components, in exactly the same way that other drugs are derived from different plant components. Big pharma companies still aren't active in the cannabis arena, and that's why research in this sector is still in its infancy, despite the scientific advancements over the last decade. But a company that is founded only to be sold, doesn't have the right motives, and has better chances of closing down than of making a glorious exit. My goal is to turn MediCane into a successful pharmaceutical company, and we are working hard to turn it into just that, including myself as the active chairman and investor. The company won't cease operating due to a lack of cash."
But isn't an IPO sort of an exit?
"The IPO is just another stage in a company's life. Although it is a big and significant stage, it isn't an end unto itself. IPOs have benefits and drawbacks. For example, after Mobileye's IPO, part of the company was in public hands, which in retrospect, was what allowed Intel to acquire us. On the other hand, after it was listed on the stock market, the attitude was different and many doors opened. Taking a company public strengthens the company's credibility when facing the big players in the sector, and also opens new possibilities to raise funds and acquire additional companies."
So when do you plan to take MediCane public?
"MediCane will make go public once we can accurately predict its sales. It needs to overcome a few more hurdles before we feel ready for an IPO, and launching our lab was one of them. By the end of the year, after we obtain the necessary approvals from the Ministry of Health, we plan to start our human clinical trials of a drug that treats behavioral symptoms in dementia patients. At the same time, we are set to seal a collaboration with one of the largest international pharmaceutical companies in the sector. Aside from that, we are waiting for the U.S. government to remove cannabis from their list of banned substances on the federal level, and all of those factors will provide us with a better foundation for going public."
At the end of the day, every startup wants to become a big company, so what's the chance that MediCane will become one of the big pharma companies?
"MediCane is taking large strides towards the next chapter in its life and has already established a broad R&D base, alongside its independent capabilities, which will make it a significant pharma player in the near future. As far as I'm concerned, MediCane will always keep its startup mentality, which enables greater enjoyment and a willingness to break boundaries. The company's staff is in no way inferior to those working at big pharma corporations.
"Starting from Yossi Ben Amram, who served in senior positions such as Vice President of the American pharmaceutical giant Merck & Co., to Dr. Ben-Zion Weiner, Chair of the Scientific Advisory Board, who served as Scientific Advisory Board Member for Teva Pharmaceutical Industries and was responsible for introducing new drugs to the U.S. market after FDA approval; Dr. Neta Rimmerman, our Vice President of R&D, who is one of the most experienced cannabis researchers in the world, and for 16 years has been studying the human endocannabinoid system, as well as the effects of the cannabinoid component (CBD) in treating pain, inflammation, and psychiatric disorders. They, along with the rest of our team, come from a significant pharmaceutical background, and have shaped the company's DNA."
Will other cannabis companies recruit pharmaceutical employees? What sets you apart from the rest?
"Like other companies, MediCane owns entire parts of the medical cannabis chain, starting from developing the right strains, through producing the final product for consumers, but at heart we are still a pharma company. The purpose of owning production chains is to maintain independence from suppliers. We don't see ourselves competing with medical cannabis companies, but with pharma companies, with products that expand the treatment range beyond the existing drug arsenal thanks to the cannabis components they contain."
Two routes toward regulation
"We've identified the strains of cannabis that are suitable for treatment induction in the medical fields that we are targeting, and our research activity is aiming to turn them into drugs that have been fully clinically researched," CEO Ben Amram said. "We are developing products in two parallel regulatory routes: one is for medical cannabis, while the other is the pharmaceutical route, where certain components of the plant are used to meet FDA and European Medicines Agency or EMA regulatory requirements. Our goal is to provide the medical community with additional scientific tools with which to effectively treat patients. Out of all the existing cannabis companies, a similar active model can be found in the British company GW Pharmaceuticals, which is also developing cannabis-based drugs. MediCane is still far from GW's success, whose revenues during the first three quarters of 2020 jumped some 88% to $379 million, while its shares climbed 11% since the beginning of 2020 leading it to a $3.9 billion valuation. However, iIn less than two years, MediCane has been successful in expanding its operations in five of the biggest medical cannabis markets in the world – Canada, Germany, Israel, Australia, and Portugal – and has distribution agreements with an additional seven pharma distributors in those markets."
$50 million from private investors
MediCane isn't profitable yet, its main financial support comes from private investors, including Aviram himself, who has invested some $50 million in the company so far. The company's revenues are estimated to be around NIS 4 million ($1.2 million) in 2020, and come from sales of the cannabis strains it grows in Israel. MediCane began selling products in Israel during the second half of 2020, and is expected to start its sales in Germany during the second quarter of the year through its medical cannabis farm in Portugal.
Which markets do you expect MediCane to be prominent in?
"We are researching eight different medical cannabis indications with 14 research bodies, including hospitals such as Sheba Medical Center and Tel Aviv Sourasky Medical Center, and universities including the Hebrew University of Jerusalem, Technion- Israel Institute of Technology, Lancaster University in the U.K. and Columbia University in the U.S. Our studies are at different stages, and two of them are already nearly ready for the transition into the paraclinical stage in humans. In the short term, we're focusing mainly on the neurological and anti-inflammation areas; in the first area we've developed a drug that treats symptoms of dementia – which is a market that brings in $2 billion a year. In general, we plan to develop drugs that relieve and treat symptoms, and not cure diseases. But that will come eventually. MediCane is successful in demonstrating its capabilities, and our progress has led us to collaboration agreements with pharma companies."