Roasted Cauliflower and Cannabis Salad
High in fiber and an incredible source of anti-oxidants, Roasted Cauliflower and Cannabis Salad is tasty AND healthy!
I'll admit, I never used to like cauliflower and as a kid, I was forced to eat it.
But now? With all of the tasty options there are like cauliflower rice and cauliflower pizza crust? I've officially hopped on the cauliflower train!
The reason why people are flagging cauliflower as this year's 'kale' is because it is a powerhouse of nutrients.
What's So Good About Cauliflower?
In addition to being a huge source of fiber, this crunchy bad-boy offers:
Vitamin's C, K, and B6 – essential for our bodies
Potassium and Magnesium -great for muscles and sleep
Antioxidants which help in reducing inflammation
High in Choline – our bodies need this in order to support metabolism and healthy brain development
Low-carb alternative to grains and legumes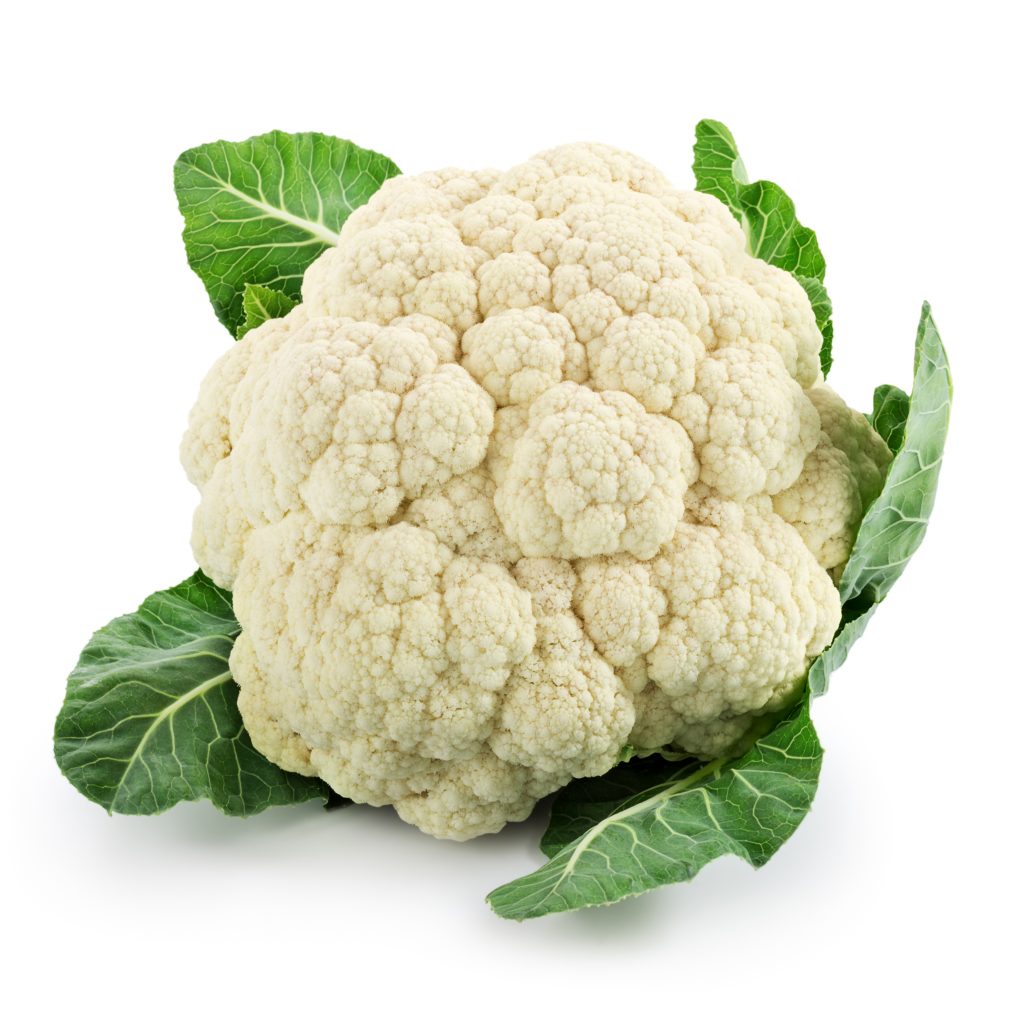 Do we need to sing any more of it's praises?! We think not!
The bottom line? It's tasty, it's yummy, it's healthy. Eat it!
What Ingredients Do I Need For Roasted Cauliflower and Cannabis Salad?
1 medium head of cauliflower
Cannabutter
Carrots
Cumin, paprika, sea salt (Himalayan is the best!)
Black pepper
Olive oil
Red onion
Fresh parsley
Tahini
Garlic
Fresh lemons to juice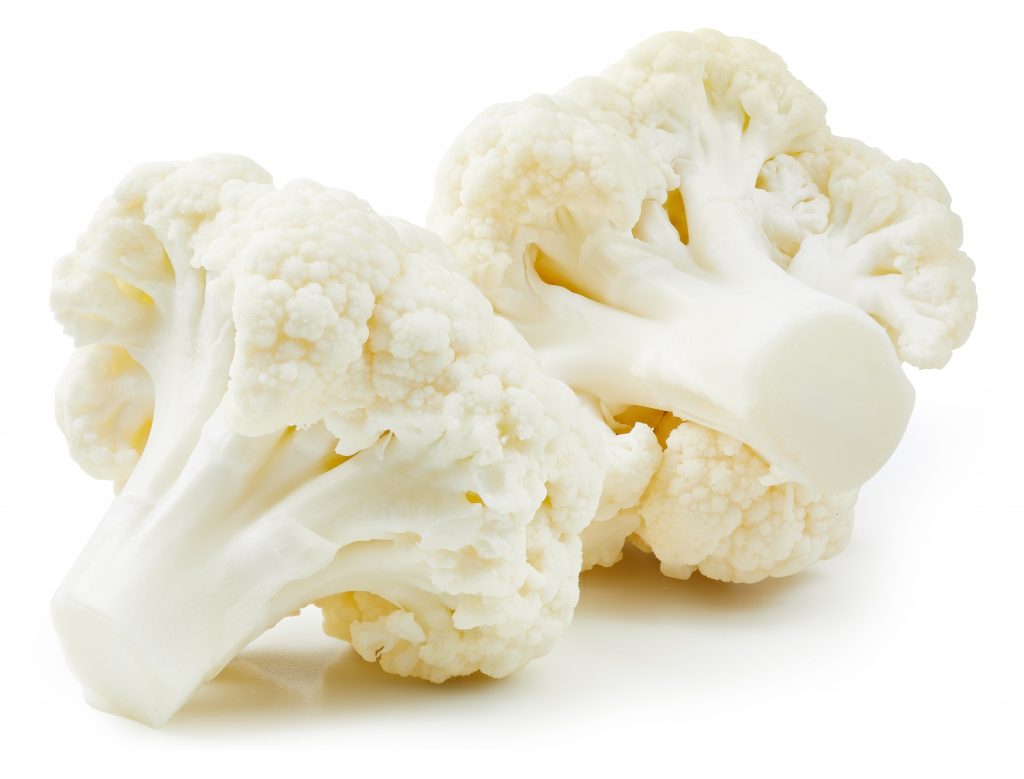 How Do You Make Cannabutter?
For those who haven't tried this decadent butter with pot, read below to learn how. If you know how, just jump to our tasty recipe!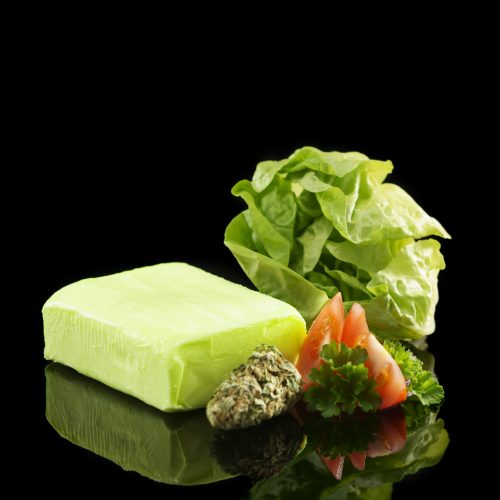 Servings: 1 Cup
Calories: 1628kcal
THC: 700-1400mg
Author: Steph Van De Ven
Instructions
Decarboxylate your weed by spreading your cannabis evenly on an oven tray And coat with aluminum foil.

Place in the oven on 240F/115C for 25 till 45 minutes, and then let it cool.

Grind your dry cannabis or chop it till fine.

Place the cannabis in a strong mason jar, add butter and (1 tsp of sunflower lecithin)(optional)

Place your closed jar in cold water and let it come to a boil, Boil for 2 to 3 hours.

Strain your butter through a cheesecloth.

Cool down

Now you can use the Cannabis Butter (Cannabutter)
Notes
If using a mason jar, be sure to start with cold water. Furthermore, it is imperative to let the water cool gradually so that your glass will not shatter.
The video guide might be slightly different than the blog recipe. The blog recipe is the most updated and accurate.
Nutrition
Calories: 1628kcal | Carbohydrates: 1g | Protein: 2g | Fat: 184g | Saturated Fat: 117g | Cholesterol: 488mg | Sodium: 1621mg | Potassium: 54mg | Sugar: 1g | Vitamin A: 5673IU | Calcium: 54mg
---
Ready For The Recipe?
If you have cannabutter made up, you'll need to take it out of the fridge, and let it sit at room temperature for an hour or more (depending on where you live)
Once it's nice and soft, but not melted – it's ready to go!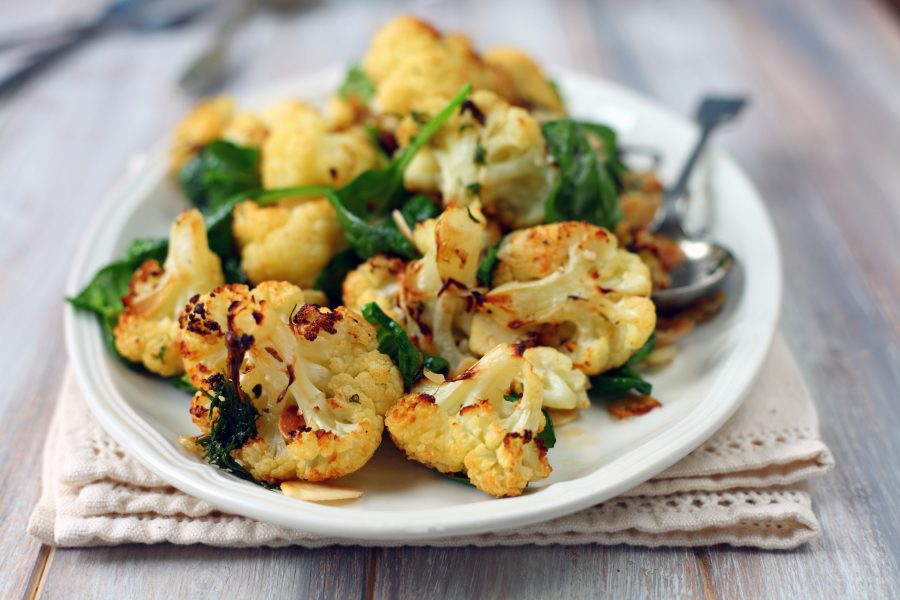 Servings: 2 people
Author: Steph Van De Ven
Cost: 20+
Equipment
Baking Sheet

Parchment Paper

Sharp knife

Cutting Board

Large Mixing Bowl

Whisk

Wooden spoon or spatula
Ingredients
1

head

Cauliflower

3

large

Carrots

1

tbsp

ground cumin

1

tsp

paprika

1

dash

salt & pepper

each

2

tbsp

olive oil

1/2

red onion

sliced thinly

1

cup

Italian parsley

fresh & chopped

4

tbsp

Cannabutter
DRESSING
1/4

cup

Tahini

1

clove of garlic

minced

2-3

tbsp

lemon juice

freshly squeezed

1/4

cup

olive oil

1

dash

salt & pepper

each
Instructions
Pre-heat the oven to 425

In the meantime, line a baking sheet with parchment paper

In a large bowl, combine cut up florets of cauliflower, sliced carrots, cumin, paprika, salt, pepper, olive oil and cannabutter. Mix until all combined and coated.

Spread the coated vegetables on the baking sheet and bake for 20 minutes.
DRESSING
In a medium bowl, whisk together the tahini, garlic, lemon juice, and water. While whisking, slowly drizzle in the olive oil until the dressing is emulsified. Season with salt and pepper.
REMOVE THE CAULIFLOWER FROM OVEN
Once the cauliflower and veggie mix is ready – or golden brown around the floret edges, remove and place in a bowl

Mix in the sliced onion and chopped parsley.

Drizzle your salad dressing over top, and serve!
If you're looking to up-level your canna-cooking game, you may want to start here.
For more recipes like this one, check out our recipe index here.
Share our post and comment below! We'd love to hear from you.
As always, happy canna-cooking!